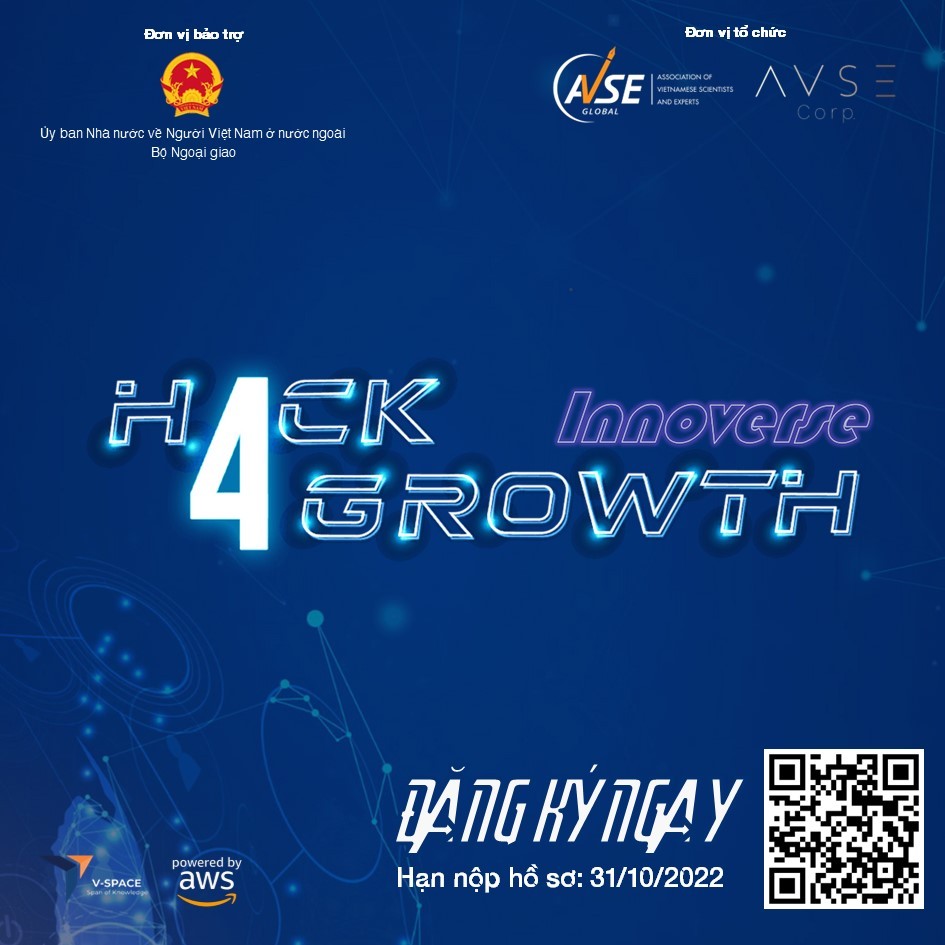 Hack4Growth Innoverse – Unlimited universe for the startup journey Deploying for the first time since 2019, Hack4Growth has gone through two seasons, calling for the cooperation of many domestic and foreign partners, and attracting more than 500 Vietnamese and Vietnamese candidates globally. In 2022, Hack4Growth season 3 leverages the success of the two previous seasons under the theme of INNOVERSE - a borderless and limitless metaverse that powers innovation across different regions, sectors, and groups of stakeholders. Hack4Growth Innoverse was launched with great missions, motivated and liberated by leading consultants and experts in Vietnam. This is a large-scale innovation competition for all individuals and organizations in the Vietnamese innovation community globally, Hack4Growth aims to become:
– Hack4Growth Innoverse is the biggest competition to connect provinces and the Startup community thanks to the patronage of the State Committee for Overseas Vietnamese – The Ministry of Foreign Affairs. We have been connected and are now working with over 20 provinces to consolidate the most chronic challenges to local development;
– Pioneering innovation competition to pilot ideas in provinces. We will connect provinces with solution providers and offer bonuses to teams who completed piloting;
– Hack4Growth and AVSE Global are willing to leverage our global network of 10,000 world-class scientists and exports across 20 countries to support the contest participants and stakeholders.​  Contest Prizes to empower the creative breakthrough ideas, and unlimited potential of Vietnamese people, Hack4Growth Innoverse brings special prizes from partners for participants:
Cash prizes:
– 1st prize: 10,000 USD.
– 2nd prize: 7,000 USD.
– 3rd prize: 5,000 USD.
In-kind awards:
– Instantly receive 10,000 USD AWS Credits with each valid entry.
– Own a premium account on the V-Space platform (vspace.global).
– Trained and coached by leading industry experts who have affirmed their name and brand in Vietnam and globally.
– Other attractive artifacts prizes.
Advisor and Mentor
In order to affirm the value and high expertise of the contest, the Advisory Board of Hack4Growth Innoverse is the one who inspires and brings pride to Vietnam with outstanding development potential in the region as well as in the world.
– Prof. Duc Khuong Nguyen – President of AVSE Global; Interim CEO of IPAG Business School, France.
– Mrs. Tue Tri Tran – CEO of Pharmacity.
– Mr. Thanh Hung Pham – Vice Chairman of the Board of Directors of CEN Group; Investor at Shark Tank Vietnam.
– Associate Professor Joseph Van Vo – Associate Professor of Business, California State University, Sacramento, USA.
– Mrs. My Nga Le – Founder&CEO Hermes Management and Investment Fund.
Besides the Advisory Board, participating teams will also receive support and mentoring from more than 30 mentors who are enthusiastic, professional coaches with a love for innovation. They are founders, C-level managers from businesses, investment funds, and lecturers from prestigious schools.
Hack4Growth Innoverse is actively looking for talented teams, support, and widespread sharing of the startup and innovation community. The contest not only helps to solve urgent problems in the recovery and promotes socio-economic development but also contributes to promoting the culture of innovation in Vietnam, improving the quality of human resources. raise the level of Vietnamese intelligence, and catch up with technology trends in the world for a strong developing Vietnam.
Deadline: 31/10/2022.
Register at: https://www.hack4growth.org/register/
Website: http://hack4growth.org/
Email: contact@hack4growth.org
Facebook: https://www.facebook.com/Hack4Growth.AVSEGlobal/ 
The success is borderless and unlimited!