Vietnam Education Symposium 2020: A Summary
November 19, 2020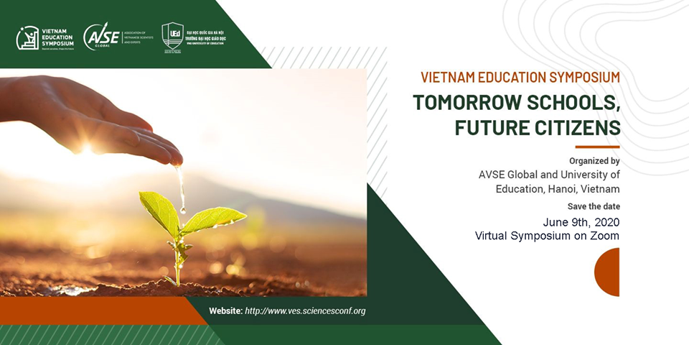 On 9th June 2020, at 9 am Vietnam time, Vietnam Education Symposium 2020 (VES 2020) with the theme "Tomorrow Schools-Future Citizens" was run on Zoom. VES 2020 is an academic symposium organized by the Education Network (Edunet) of the Association of Vietnamese Scientists and Experts (AVSE Global) in partnership with the University of Education, Vietnam National University, Hanoi.
In the context of the global Covid-19 pandemic, VES 2020 organizers decided to bring the entire symposium online. While many other conferences have been canceled or put on hold due to the impact of coronavirus, this can be considered a bold decision. This is also the first time AVSE Global has organized a virtual academic symposium.
During the 7-hour program, VES 2020 welcomed more than 200 participants from more than 15 countries. Many participants had to wake up at 3-4 am in Europe or stay awake until 4 a.m. in the United States.
VES 2020 had the pleasure to welcome five renowned scholars: Professor Keith Barton (Indiana University, USA), Professor Wilfried Admiraal (Leiden University, Netherlands), Associate Professor Roger-François Gauthier (Consultant, Ministry of Education of France and UNESCO), Associate Professor Rana Dajani (Hashemite University, Jordan), Associate Professor Marek Taser (University of Auckland, New Zealand).
During the plenary sessions, the speakers discussed three main themes:
1. (Re)defining aims of education for the 21st century
2. Collaboration in education, social science, and promoting a learning society
3. Teaching and learning, teacher training, and the role of schools in the digital age.
In the afternoon, VES 2020 held two parallel sessions for participants to presents their contributions to the symposium. Each session had eight presentations.
The spotlight in the symposium was that all speakers and participants engaged in topical debates, offering many constructive views and innovative suggestions. Many speakers quickly responded to questions by tying their answers on the chat medium on Zoom to save time for heated discussions.
The organizers would like to thank the engagement of all the speakers and participants, and the meaningful support from the Aus4Skills Programme. VES 2020 has been an effort to adapt to the "new normal". It reflects AVSE Global's spirit of "Beyond ourselves, Shape the future".
Edunet is committed to innovating and transforming Vietnamese education in order for Vietnam to generate new generations of responsible global citizens.