Hack4Growth: COVID ENDGAME – Vietnam needs you
November 20, 2020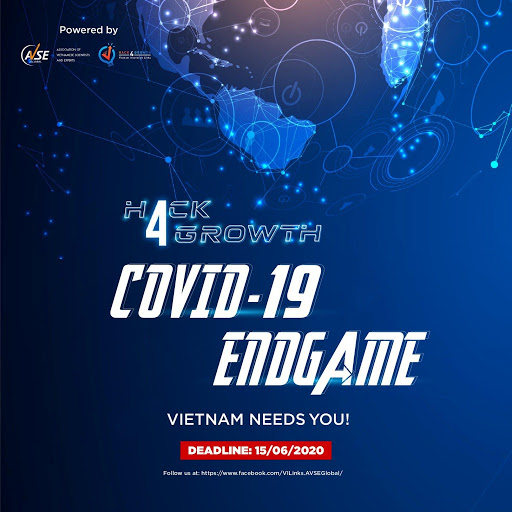 The Global Association of Vietnamese Scientists and Experts (AVSE Global) recently launched "#Hack4growth – Covid Endgame" creative innovation contest, sponsored by the State Commission for Overseas Vietnamese under the Ministry of Foreign Affairs.
The contest aims to connect innovators with investors and enterprises to identify solutions to the challenges posed by the COVID-19 pandemic.
Entries should give out solutions that help mitigate the pandemic's impact on socio-economic, environmental, tourism, health, and educational matters.
The contest is for businesses or groups that have operated for less than five years, as well as individuals aged over 18. Individual participants: innovators from 18 years of age, including but not limited to students, entrepreneurs, teachers, researchers, can apply for the contest either with a concept or a product active/registered for up to 5 years until 15.6.2020. Participating teams: project teams with traction/users incorporated and active up to 5 years until 15.6.2020, from 2-5 members and at least 1 member is of Vietnamese origin.
Winners from the competition can have lots of benefits including:
Access to world-class training and mentoring programs
Media sponsorship packages from VNExpress and Dantri
Rewards for Winner, Runner-up, Third place
Dinner with influencers, networking with 15 top CEOs and thought leaders in Vietnam
Investment opportunities and other attractive prizes
Timeline for the competition is:
15/4 – 30/6: Launching (with June 15th as the submission deadline)
1/7 – 15/7: Preliminary (Prescreening to shortlist top 20 teams to the next round)
15/7 – 30/9: Pre-final (Training for teams to fine-tune business plans and pitches)
10/2020: Final (Finale and Awarding Ceremony)
More details can be found at the official website of Hack4Growth: https://www.hack4growth.org/