Overseas Vietnamese intellectuals contribute to the Vietnam development
December 2, 2020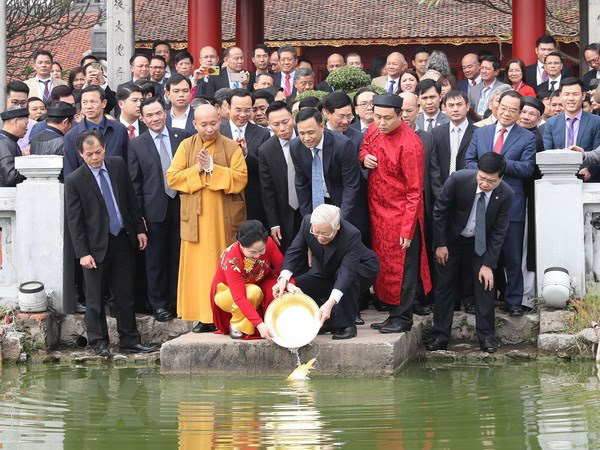 Out of more than 5 million overseas Vietnamese (NVNONN), there are more than 500 thousand experts and intellectuals living in all regions and continents.
Entrepreneurs and intellectuals of NVNONN are confirmed to have played an important role in connecting Vietnamese goods and services to the world, promoting scientific and technical cooperation, connecting with experts, Scientists, international technology research institutes, are a friendship bridge between Vietnam and neighboring countries. Attracting the resources of these experts is an important task to build and develop the country in the current context of deep international integration.
At the conference "Overseas Vietnamese comment on the results of 5 years of implementing Directive 45 on the development of the country in the new situation" by the State Committee on NVNONN on the afternoon of November 26, many expatriates gave their opinions. recommendations to promote overseas intellectual resources. Establish a private science and technology corporation Professor, Academician Nguyen Quoc Sy, Russian Overseas, Director of VinIT Institute of Technology said that overseas Vietnamese participation in the field of science and technology in the country faces many difficulties with 5 "missing": Lack of mechanism-specific policies for expatriates to participate in science and technology projects, lack of an efficient implementation in place; lack of investment funds, specialized equipment; lack of respect and full honor in reality for the knowledge of overseas Vietnamese; There is a lack of identifying many specific science and technology tasks for expatriates to participate. He said: In foreign countries, the field of science and technology is invested, but it always feels lacking, of course, the more lack of it in Vietnam. "But we can focus on spearheading, concretely, not spreading out. Many labs invest in spreading, many research topics sound painful because they do not go anywhere, waste of people's money, time. Scientists' time, if using appropriately human resources and financial equipment, they can still do many things ".
Mr. Sy has consulted the list of hundreds of research projects of the Vietnam Academy of Science and Technology, but he found that many subjects were low and repetitive. From that fact, Mr. Nguyen Quoc Sy made many recommendations, including allowing the support and building of strong private science and technology groups, with an effective and proactive new organizational model in the group. organize the implementation of science and technology tasks, create working conditions, and promote the creativity of overseas knowledge forces for the country, act as a locomotive for the development of industrialization and modernization of the country. In addition, he proposed to allow leading scientists and senior experts, overseas intellectuals, to master key scientific research topics, under the leadership of the state and ministries. Professor Nguyen Quoc Sy said that countries and territories around Vietnam such as Singapore, Taiwan, and Thailand have been successful in many fields thanks to investment in science and technology, and key investment. from time to time. "When some difficulties are removed, there will be a domino effect that will help Vietnam take off" – he said. General Secretary and State President Nguyen Phu Trong and overseas Vietnamese perform the ritual of releasing carp in the Spring Homeland 2019 program.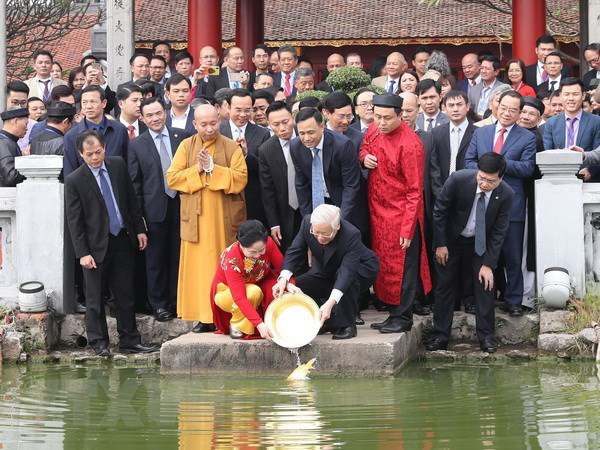 Photo: VNA.
A professional, competitive working environment to attract soft power – talents of expatriates from around the world – is the suggestion of Ms. Nguyen Thi Hai Thanh, Director of the Vietnam Global Science and Expert Organization (AVSE Global) in Vietnam, blockchain specialist (Singapore, Thailand). AVSE Global has been established for 10 years and is one of the largest networks connecting overseas Vietnamese intellectuals with more than 10,000 members globally. "Many overseas intellectuals always look to their homeland and aspire to contribute to the country.
However, barriers in the working environment, professionalism, transparency in mechanism, and especially lack of environment and background. The foundation helps to connect with like-minded peers, making many intellectuals still unable to wholeheartedly serve the development of the country "- Ms. Hai Thanh said. Since then, the Director of AVSE Global Vietnam proposed to develop a professional, competitive, transparent, and connected working environment between experts and scientists, in addition to a reasonable remuneration mechanism. Ms. Hai Thanh said that the connection is small, asynchronous. If the connection can be made into a community, overseas Vietnamese intellectuals can contribute more. In addition, Ms. Hai Thanh also proposed to identify the spearhead of the development and competitive advantage of Vietnam in terms of human resources. From there, it is possible to set out preferential policies, support for training (especially training in technology and technology), attract and develop a team of experts and senior consultants. Building and enhancing Vietnam's reputation in research and development will also help attract high-quality talent. "It is important to focus on increasing research content, attracting source technologies to Vietnam, and especially the State should play a pioneering role.